¡Poesía está en la calle!

Resistencia Bookstore
casa de Red Salmon Arts
1801-A South First St.
Austin, Texas
(512) 416-8885
revolu@swbell.net
What revolution ever occurred without books? Austin's counterculture thinkers are an ardent and diverse lot, and our city is shot through with gathering places for all sorts of media that challenge the status quo. Here's a list of some of our favorite spots where you can experience a wide world of thought with your own eyes and hands.
MonkeyWrench Books — 110 E. North Loop
Collectively owned for 10 years and brimming with radical literature, MonkeyWrench deals in thoughtful provocation by the pound. The space is small but densely packed with volumes both grave and lively, and the on-site cafe serves up vegan treats and $1 cups of fair-trade organic locally roasted brew to help keep your strength up.
Brave New Books — 1904 N. Guadalupe
Another dot on the radar of Austin's textual counterculture sits literally underground at the southern tip of the university Drag, specializing in Libertarian philosophy, conspiracy theory and other "suppressed literature." The space also hosts film screenings and lectures that they don't want you to see, and carries a well-stocked shelf of vitamin supplements to open your body's mind, too.
World Spirit Books — 1006 S. Lamar
If you prefer your unconventional philosophy more ethereal than material, World Spirit Books might be just your speed. The shelves are stocked with compendiums on astrology, divination, alternative medicine and Age-of-Aquarius spirituality, not to mention the most diverse selection of energy tools and tarot card decks this side of the Crystal Vortex.
BookWoman — 5501 N. Lamar
BookWoman deals in inspirational thinking and feminist subversion that ranges from academic to revolutionary. The store has been stirring the inner feminine for 30-plus years here in town, and the North Lamar space it occupies today allows owner Susan Post to host readings and other happenings that mesh with the mission.
Resistencia Bookstore — 1801A S. First
La Resistencia also boasts a legacy more than three decades strong, including 11 years running at its current location just off Annie Street. Founder and elder statesman Raul R. Salinas has since departed para su gran recompensa, but his shop remains one of the best resources in town for Latin and Native American literature, music, poetry, art and social thought.
Domy Books — 913 E. Cesar Chavez
This tidy circuit-shaped bookstore and gallery space on the corner of Chavez and San Marcos carries underground 'zines and arthouse hardbacks of all shapes and sizes. Wall-hung offerings rotate frequently and the stuff on the shelves never fails to arouse the ragged edges of your brainstem. Recent additions to the space include a walk-in curio cabinet and a vegan delicatessen trailer out back.
Whether you're a novice truth-seeker or a member in good standing of the underground intelligentsia, you'll find something new to chew on at these stockyards of world-expanding knowledge and information. Check them out when you can, and drop us a line in the comments if we missed one. Viva la clandestinidad!
shopping party for resistencia bookstore
photo: Jana Birchum/ITVS via www.itvs.org
Reblogged from luchador@s.
shopping party for resistencia bookstore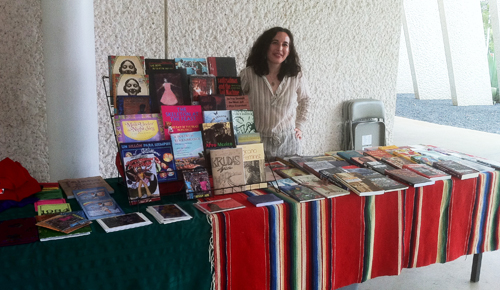 "A display table, knowledgeably and gracefully manned by Lila Rosas, from the Resistencia Bookstore, founded by the late poet Raul Salinas, an early advocate for the ESB-MACC."
Andrea Zarate & Family (by cinelasamericas)

"Andrea Zarate (center), Director of Susana Almanza: The Life of an Activist.

Photo By Danea Johnson"
Reblogged from luchador@s.
Former Black Panther Russell Maroon Shoatz has been held in torturous conditions of solitary confinement in Pennsylvania prisons for the past thirty years. He has not had a serious rule violation for more than two decades. Maroon's role as an educator, human rights defender, writer, and critical intellectual of liberation movements is widely renowned.
From April 8 to May 10, 2013, the Campaign to Free Russell Maroon Shoatz is calling for an intense call-in and write-in campaign to bring pressure on the Pennsylvania Department of Corrections (PA DOC), to release Maroon from solitary confinement and into the general prison population. This is the first major phase of a coordinated political-legal campaign, beginning with Maroon's attorneys sending a "Demand Letter" to the PA DOC on the morning of April 8, 2013. The letter, outlining the legal and humanitarian reasons why an immediate release from solitary is needed, gives the PA DOC an opportunity to correct the grave injustices being carried out on a daily basis before litigation begins.
April 8—Begin flooding the office of PA Department of Corrections (DOC) Secretary John Wetzel with phone calls, letters, and faxes. Send a copy of that letter, or address a similar letter, to the office of SCI Mahanoy Superintendent John Kerestes.
PA DOC Secretary John Wetzel 1920 Technology Parkway Mechanicsburg, PA, 17050
Phone number: 717-728-4109  Fax number: 717-728-4109 

Download Sample Letter/Email to Wetzel here
SCI Mahanoy Supt. John Kerestes 301 Morea Road  Mahanoy, PA, 17932
Phone number: 570-773-2158 Fax number: 570-783-2008
Download Sample Letter/Email to Kerestes Here
If you have contact with media in your area, consider suggesting that they cover this story, including the April 8 – May 10 pressure campaign. Help publicize the campaign in schools, workplaces, churches, and communities nationwide.
Talking Points

Russell Maroon Shoatz (if writing DOC, always put his prison number – AF-3855) has been in solitary confinement for almost 30 years despite the fact that his disciplinary record has been impeccable—without incident for the past 20 of those years.
Such "prolonged" solitary confinement is a violation of the United Nations Convention Against Torture, according to UN Special Rapporteur Juan Mendez. It starves the mind of basic social interaction, human contact, and intellectual stimulation needed for proper brain functioning.
Other Pennsylvania prisoners with more extensive violent histories and more recent disciplinary infractions have nevertheless been released from solitary and are now held in general population.
Maroon is being targeted because of his work as an educator and because of his political ideas; his time in solitary began just after he was elected president of an officially-sanctioned prison-based support group. This targeting is in violation of his basic human and constitutional rights.
At age 69, Maroon poses no threat to the physical well-being or running of the Pennsylvania Department of Corrections. His 23-hour-a-day physical isolation in solitary is unnecessary and costly.
We join the American Civil Liberties Union, Physicians for Human Rights, and a growing number of prominent world leaders in calling for an end to prolonged solitary confinement. Maroon's case is one of the most egregious, politically motivated, and long-standing of the nation's solitary cases.
Maroon has deep roots in Pennsylvania's Black community, many friends in peace, justice, and human rights organizations, and family members and supporters throughout the State, the USA, and the world. We understand the PA DOC Secretary's Office and the Warden of SCI Greene to be particularly and personally responsible for the torturous and lethal conditions of solitary under which Maroon is still kept.
Maroon must be released from solitary confinement IMMEDIATELY!!!
Who is Russell Maroon Shoatz?

Russell Maroon Shoatz is a former leader of the Black Panthers and the Black freedom movement, born in Philadelphia in 1943 and originally imprisoned in January 1972 for actions relating to his political involvement. With an extraordinary thirty-plus years spent in solitary confinement—including the past twenty-three years continuously—Maroon's case is one of the most shocking examples of U.S. torture of political prisoners, and one of the most egregious examples of human rights violations regarding prison conditions anywhere in the world. His "Maroon" nickname is, in part, due to his continued resistance—which twice led him to escape confinement; it is also based on his continued clear analysis, including recent writings on ecology and matriarchy. THOUGH MAROON WAS RECENTLY TRANSFERRED to a lower-security correctional facility in Central Pennsylvania, he IS STILL HELD in a SOLITARY CONFINEMENT UNIT. It will take a mass, grassroots movement to free this inspiring community activist.
Part of the momentum for the campaign will come from a book tour taking place during this period, promoting the newly-published Maroon the Implacable: The collected writings of Russell Maroon Shoatz. But it is up to everyone concerned with human rights anywhere and everywhere to spread the word far and wide, to make these 30 days count—for an end to solitary confinement and an end to the torture of Russell Maroon Shoatz
Campaign to Free Russell Maroon Shoatz, freemaroonshoatz@gmail.com,
c/o WRL/Matt Meyer, 339 Lafayette Street, New York NY 10012; 412-654-9070
Download PDF of Action Alert Here
Download Organizers Packet Here
Maroon's new book will be released next April 
2013 published by  PM press!
You can pre order a copy of the book here.
Wanna be a stop on Maroon's Book Tour?!
'Maroon the Implacable: the collected writings of Russell Maroon Shoatz' will be touring the United
States between March 27th, 2013 and May 6th, 2013.  Quincy Saul (co-editor) and Theresa Shoatz (daughter of Russell Maroon Shoatz) are available for events, speaking engagements, interviews, radio shows and television appearances before and during the book tour.
To book a spot on our tour, please contact:
Kanya D'Almeida (Coordinator)
Email: freemaroonshoatz@gmail.com
Cell: 646.664.5658
Russell Maroon Shoatz is a political prisoner who has been held unjustly for over thirty years, including two decades in solitary confinement. He was active as a leader in the Black Liberation Movement in Philadelphia, both above and underground. His successful escapes from maximum-security prisons earned him the title "Maroon." This is the first published collection of his accumulated written works, and also includes new essays written expressly for this volume.
Despite the torture and deprivation that has been everyday life for Maroon over the last several decades, he has remained at the cutting edge of history through his writings. His work is innovative and revolutionary on multiple levels:
• His self-critical and fresh retelling of the Black liberation struggle in the U.S. includes many practical and theoretical insights;
• His analysis of the prison system, particularly in relation to capitalism, imperialism, and the drug war, takes us far beyond the recently-popular analysis of the Prison Industrial Complex, contained in books such as The New Jim Crow;
• His historical research and writings on Maroon communities throughout the Americas, drawing many insights from these societies in the fields of political and military revolutionary strategy are unprecedented; and finally
• His sharp and profound understanding of the current historical moment, with clear proposals for how to move forward embracing new political concepts and practices (including but not limited to eco-socialism, matriarchy and eco-feminism, food security, prefiguration and the Occupy Wall Street movement) provide cutting-edge challenges for today's movements for social change.
About Russell Maroon Shoatz:
Russell Maroon Shoatz is a dedicated community activist, founding member of the Black Unity Council, former member of the Black Panther Party, and soldier in the Black Liberation Army. He is serving multiple life sentences as a U.S.-held prisoner of war.
About Chuck D (Foreword):
Chuck D is an American rapper, author,and producer. He helped create politically and socially conscious hip-hop music in the mid-1980s as the leader of the group Public Enemy.
About Fred Ho (Editor):
Fred Ho is a jazz baritone saxophonist, composer, bandleader, playwright, writer, and social activist. He has written and produced many books and albums, including most recently the books Diary of a Radical Cancer Warrior (2011) and Raw Extreme Manifesto (2012), and the albums Snake Eaters and The Year of the Tiger. He is one of the founders of Scientific Soul Sessions. More information about Fred's incredible career can be found at http://www.bigredmediainc.com
About Quincy Saul (Editor):
Quincy Saul is a writer, organizer and musician. He is a columnist for Capitalism Nature Socialism and a co-founder, writer and organizer for Ecosocialist Horizons. He is the author of Reflections of Crisis: The Great Depression and the 21st Century (2010), and the co-producer of The Music of Cal Massey. He is a columnist for The Africa Reportand his articles have been published by numerous online outlets including Narco Newsand Area Chicago. He is a member of Scientific Soul Sessions.
About Matt Meyer (Afterword):
Matt Meyer is author and editor of six books, including four titles on contemporary Africa and PM Press' Let Freedom Ring: A Collection of Documents from the Movements to Free U.S. Political Prisoners. He is a New York City-based educator and activist, and a founder of the anti-imperialist collective Resistance in Brooklyn. Meyer has served as national chair for both the War Resisters League and the Peace and Justice Studies Association, and has been called a natural coalition-builder who "provides tools for today's activists" by Argentine Nobel Peace laureate Adolfo Perez Esquivel.
About Nozizwe Madlala-Routledge (Afterword):
Nozizwe Madlala-Routledge is a South African activist and politician, the former Chairperson of the ANC Parliamentary Caucus, Deputy Speaker of the National Assembly, Deputy Minister of Health and Deputy Minister of Defence. Prior to her election to Parliament, Nozizwe served in the liberation struggle under the United Democratic Front and the ANC underground, and was a founding member of the Natal Organization of Women. She is currently executive director of Embrace Dignity, an organization that "embraces the dignity of all people and steadfastly opposes the sexual and commercial exploitation of those rendered powerless and vulnerable by absence of choice, be it as a result of poverty or any form of inequality or abuse.
Click Here To Pre-Order Book Online
Click Here For Full Press Release
Product Details:
Author: Russell Maroon Shoatz
Editors: Fred Ho and Quincy Saul with a Foreword by Chuck D and an Afterword by Matt Meyer and Nozizwe Madlala-Routledge
Publisher: PM Press/Ecosocialist Horizons
ISBN: 978-1-60486-059-7
Published: April 2013
Format: Paperback
Size: 9 by 6
Page count: 304 Pages
Subjects: Politics-Activism, African American, Political Science
Schedule!
MARCH 2013
Monday, Mar 18: SUNY, New Paltz, NY
Friday, Mar 22: Media Sanctuary, Troy, NY
Friday, Mar 29: Inquiring Minds Bookstore, New Paltz, NY
APRIL 2013
Monday, Apr 1: Faculty Lounge, Hampshire College, Amherst, MA
Tuesday, Apr 2: Pleasant Street Book, Woodstock, VT
Wednesday, Apr 3 Apr 4: Cornell University, Ithaca, NY
Friday, Apr 5: Philadelphia, PA
Saturday, Apr 6: UDC Clarke School of Law, Washington, D.C.
Sunday, Apr 7: Everyone's Place African Cultural Center, Baltimore, MD
Monday, Apr 8: Vanderbilt University, Nashville, TN
Wednesday, Apr 10: Chicago, IL
Friday, Apr 12: Rainbow Bookstore Co-op, Madison, WI
Sunday, Apr 14: Macalester College Chapel, St. Paul, MN
Monday, Apr 15  Wednesday Apr 17: Austin, TX (Inside Books Project, UT Austin, Red Salmon Arts)
Thursday, Apr 18  Saturday, Apr 20: Remain in TX
Sunday Apr 21: Black Coffee Café, Seattle, WA
Monday, Apr 22: UCSB Multicultural Center, Santa Barbara, CA
Wednesday, Apr 24 (Mumia's Birthday)  and Sunday, Apr 28: Bay Area, CA (Eastside Arts Alliance, Mills College, California Institute of Integral Studies)
Scientific Soul Sessions
presents
Maroon the Implacable: The Collected Writings of Russell Maroon Shoatz
2013 National Book Tour
featuring
Theresa Shoatz (Philadelphia, PA)
daughter of Russell Maroon Shoatz
and
Quincy Saul (NYC)
co-editor of Maroon the Implacable
plus
Robert King Wilkerson
(Angola 3)
and
Rocio Villalobos
(Texas United for Families: TUFF)
Performances by
Riders Against the Storm
ready to walk jazz ensemble
(Afrological Improvised Music)
&
Ballet Afrique
ALL OUT FOR MAROON!!
A BENEFIT to FREE Black Political Prisoner Russell Maroon Shoatz
from 30 years of Solitary Confinement.
Part of a 30-day pressure campaign (April 8 – May 10, 2013)
calling for an intense call-in & write-in to the Pennsylvania Dept. of Corrections to release Maroon into general population.
7pm -9pm Monday April 15, 2013
Space12
312 East 12th St., Austin, Tejaztlán  78702
ADMISSION:
$20 includes a copy of Maroon the Implacable (PM Press)/ $10 without the book
**ACTION ALERT**
The 30 day pressure campaign to release Maroon from solitary began on Monday — spread the word!
http://russellmaroonshoats.wordpress.com/2013/04/08/action-alert-russell-maroon-shoatz-call-to-demand-his-immediate-release-from-solitary-confinement/
Russell Maroon Shoatz is a political prisoner who has been held unjustly for over thirty years, including two decades in solitary confinement. He was active as a leader in the Black Liberation Movement in Philadelphia, both above and underground. His successful escapes from maximum-security prisons earned him the title "Maroon."
This is the first published collection of his accumulated written works, and also includes new essays written expressly for this volume.  http://russellmaroonshoats.wordpress.com
Sponsored by:  Scientific Soul Sessions, Inside Books Project, Sending Solidarity, Treasure City Collective, Texas United For Families, Resistencia Bookstore, Palestine Solidarity Committee
FMI: 512-416-8885 or email: revolu@swbell.net/ www.scientificsoulsessions.com
fb event page: https://www.facebook.com/events/444701315612883/
fb community page:  https://www.facebook.com/pages/Free-Maroon-Now/587296707955142
GOAL OF THE EVENT: 100 PEOPLE/ 100 BOOKS